Discussion Starter
·
#1
·
There was some talk about Western Union splices in a recent thread, something a lot of people never heard of now.
I was looking for an image file I had of a poster with a bunch of old school splices illustrated, I like reading about that stuff. I'll use it in a pinch with speaker wire, low voltage lighting, and other stuff.
I did not find that poster but did find a picture of a splice I don't remember seeing before, a three wire variation of the Western Union splice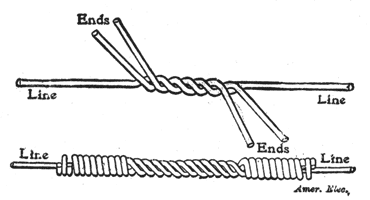 from
http://reference.insulators.info/publications/view/?id=9630
You basically just twist a short piece of wire in with the spliced wires and make a Western Union splice. I tried it with some scrap, it does clearly make a stronger splice. I'll probably use this in the future with small low voltage wires, splicing 18 gauge or smaller, to make a more durable connection.